Five video analysis apps for tennis
Tennis is a sport that requires not only physical stamina and skill, but also strategic thinking and analysis. Whether you're a professional tennis player or an amateur looking to improve your game, video analysis apps can be a valuable tool in your training arsenal. Many of these apps allow you to use your own pre-recorded videos to analyse your gameplay, providing insights into your technique, strengths and weaknesses. Some apps will even allow you to record the video footage directly from the phone camera, providing a more immediate experience.
In this blog post, we'll take a closer look at video analysis apps for tennis and explore their features and benefits as well as how they can help you elevate your game to the next level.
Although there would be a long list to choose from, in this post we will focus our attention on five video analysis software packages, four of which being mobile apps: Swing Vision, Dartfish, Kinovea, SevenSix and Tennis Commander.
1. Swing Vision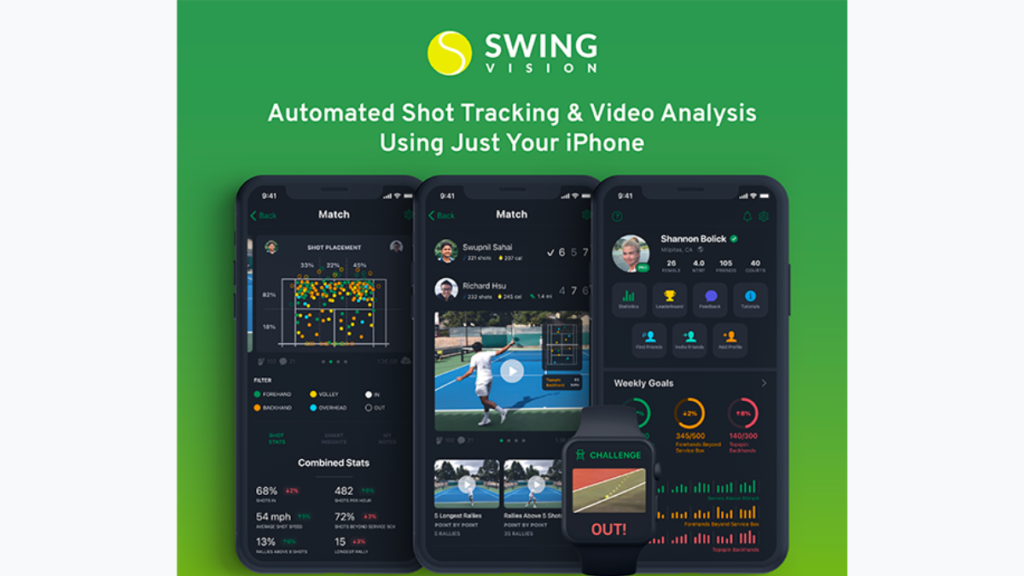 Swing Vision is a video analysis app that is becoming increasingly popular amongst tennis players and coaches around the world and has been adopted by the British Lawn Tennis Association and Tennis Australia, to name a few.
It is an app that runs on recent versions of the iPhone, however, it can also run on a Mac computer for off-court analysis. At the time of writing, the app does not support Android phones.
The iPhone is placed on the tennis court using a tripod or a fence mount and can also be controlled from an Apple Watch. From here, the app will record your gameplay. The Artificial Intelligence (AI) functions within the app are able to automatically collect data and create statistics, allowing players to use "smart" filters to watch certain shots (eg forehands, backhands, etc) during a recording session. It will also calculate ball speed and do ball tracking in real-time, which is extremely useful to players as well as coaches.
Another important feature available is line calling. When connecting the iPhone to an Apple Watch, just a simple tap on the watch will provide you with a replay of the last point to help players decide whether the ball bounced in or out! The video here shows the technology in use.
Another useful feature is its automatic video removal. Once the footage has been recorded, time in between points is removed automatically using AI functions, saving players time when reviewing the footage, meaning less time spent on editing and more time spent on analysis.
We shouldn't forget to mention that all those AI functions mentioned before are provided by the iPhone without the need to connect to the internet which is a great advantage for all those players and coaches operating in small local clubs where internet access is generally unavailable.
Finally, the SwingVision app also connects to the online feed on their website meaning that people with an account can watch back matches on it. This is perfect for friends and family who can't get to matches but still want to watch their favourite players!
SwingVision has two packages available. The Beginner version is free of charge but, as you would expect, has reduced functionality. The Pro version, with all the bells and whistles, costs $150 a year (at the time of writing).
2. Dartfish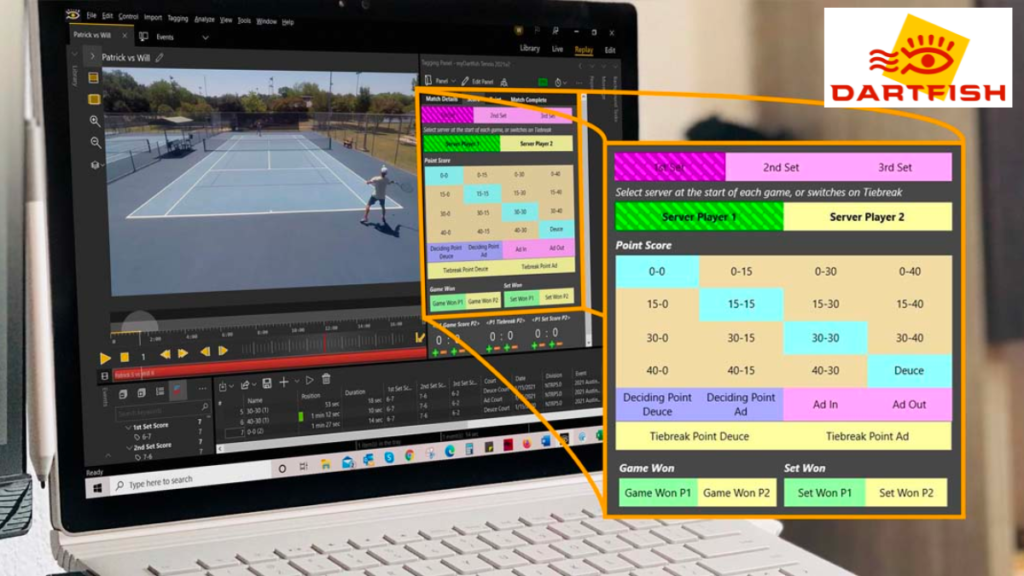 Dartfish has many different products available but here we will focus on the mobile application. It's a software that allows users to record in-app or upload footage onto the mobile app from your photo/video gallery.
There is access to slow-motion video playback and annotation tools allowing users to move through the footage frame by frame, adding in a stopwatch and measurement tools that allow for a high level of analysis of angles and body placement. Additionally, the tool offers comparisons between two video clips placed side by side.
A standout feature is that Dartfish allows coaches to provide audio feedback to their players after practice or matches. The voice-over narration and screen-recording capabilities while annotating frozen footage means that personalised feedback can be offered, allowing a vocal review of the footage. This can save a lot of valuable time for the coach and also helps the players to get a better understanding of the feedback provided by their coach.
Every video that is created or uploaded in Dartfish is stored on their online cloud storage meaning it doesn't take space on your device. You also have the capability to share resources with your club and players, meaning that everything you want them to have access to can be viewed from within the app.
As already mentioned, Dartfish offers several packages with different functionalities and targeting different customer segments, e.g. clubs, coaches and players. At the time of writing, the mobile app (called "my Dartfish Express") is offered for both Android and iOS phones for around $100 a year.
3. Kinovea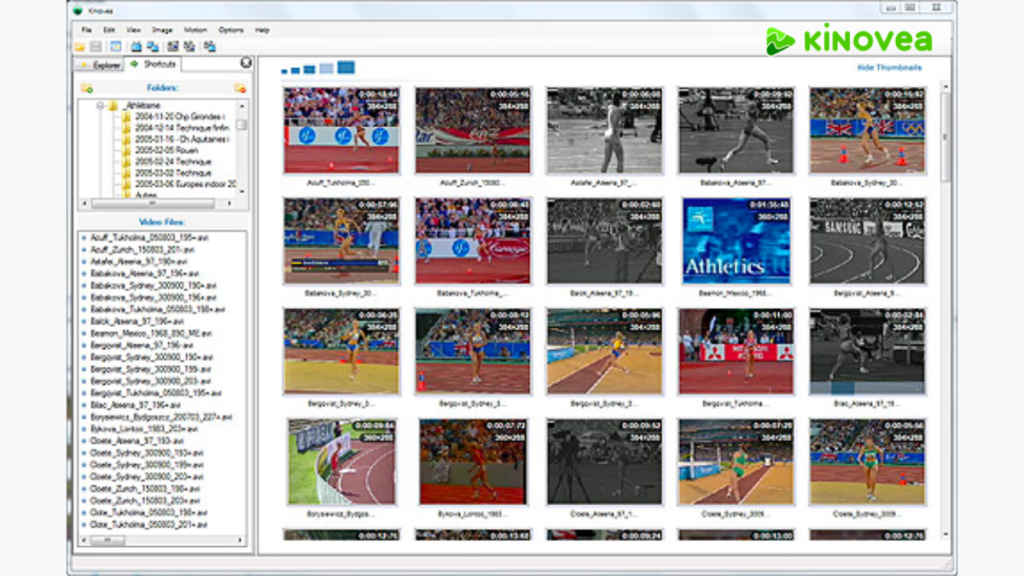 Kinovea is a free open-source video analysis software that is widely used in tennis as well as in other sports. The software can be downloaded for free from the web site, however, some may argue that the software is a little outdated. Moreover, it only supports the Windows operating system (versions 7 to 11) natively, although you may still be able to install it on a Mac or on a Linux machine with additional software libraries. Mobile operating systems are not supported.
Kinovea is a software designed for the study of human motion, providing tools for capture, observation, annotation, and measurement of movements. The software is able to read almost any video format, and static images are converted into 10-second videos to enable annotations on multiple pages. It provides 26 language options thanks to the work of translators from around the world.
In terms of observation, Kinovea offers options for slow-motion playback, image transformations, comparing and synchronising videos with different frame rates, overlaying two videos on top of each other and drawing attention to something using the spotlight or magnifier tools.
Regarding annotation, Kinovea enables users to create key images and attach text comments to them and also add basic annotations like labels, numbers, lines, arrows, curves and multi-line paths. External images can be imported as image objects into the video and advanced tools can be created from scratch using custom files.
Kinovea also provides a range of measurement tools, including chronometers, line, angle, and goniometer tools for measuring time spans, distances, and angles with 'subpixel accuracy'. The software also offers a powerful grid-based calibration, which allows for rotated or perspective-aware coordinate systems, as well as lens distortion compensation.
Finally, Kinovea allows users to capture and record camera streams, supporting webcams, network cameras, and smartphone-based IP-camera applications. Users can configure the interface for a single camera, two cameras, or one camera and one playback screen, and annotation tools can be used to create alignment guides and get posture feedback during recording. Annotations are saved as KVA files, and the software offers various export options, including exporting annotations permanently painted on video frames, exporting key images to separate files, or creating video slideshows.
4. SevenSix Tennis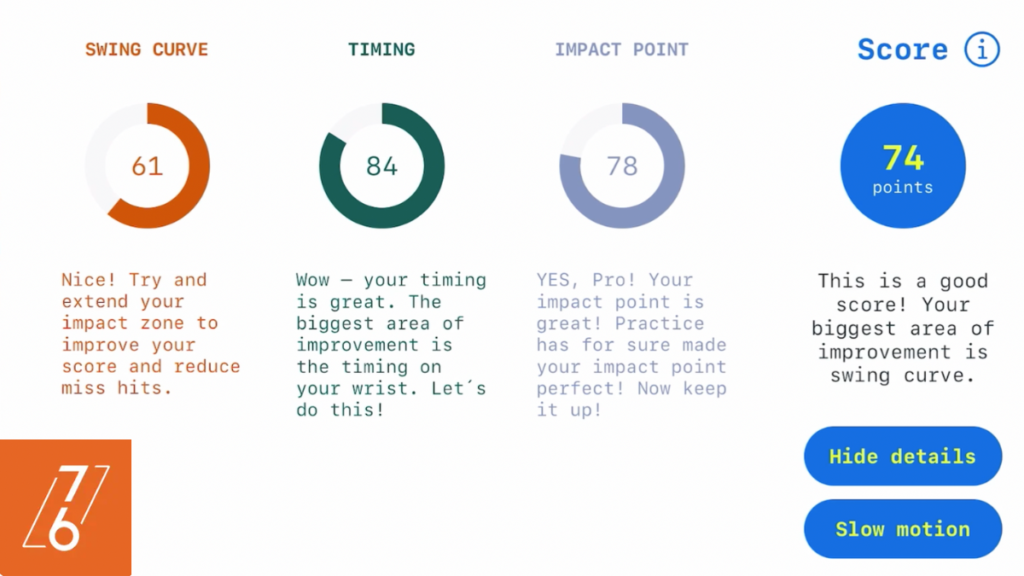 SevenSix Tennis is an award winning Artificial Intelligence (AI) powered application that analyses tennis swings to help players of all abilities improve their game.
After videos have been recorded or uploaded onto the app, the AI analyses important parts of a player's swing. The biometric parts of the swing are then compared with that of a professional tennis player's swing and the app creates a score out of 10 for 'Swing Curve', 'Timing', 'Impact Point', and then an overall 'Swing Score'.
A useful feature is the automatic addition of a line which follows your swing and helps players to review their swing visually. This is part of the 'Swing Curve' scoring the app supports.
Currently, as of March 2023, the AI can analyse forehand topspin, backhand topspin, serve and backhand slice. There are more shot types set to come which SevenSix Tennis are working on. In short, SevenSix uses AI to analyse how players convert the energy in their body, into the ball at impact. Focusing on hip, shoulder and wrist velocity, a score out of 100 can be given.
The AI uses information gathered from professional tennis players who have the ideal technique and then draws a comparison with your swing. This technology looks quite exciting as it can be used by both players and coaches effectively to measure performance and technique improvement over time.
To get your hands on the SevenSix app in its most basic format, you don't actually have to pay a penny with its free download. However, you only receive access to 2 trial analyses and forehand feedback. If you want to upgrade and gain access to all the bells and whistles, at the time of writing it will set you back $86.40 per year.
5. Tennis Commander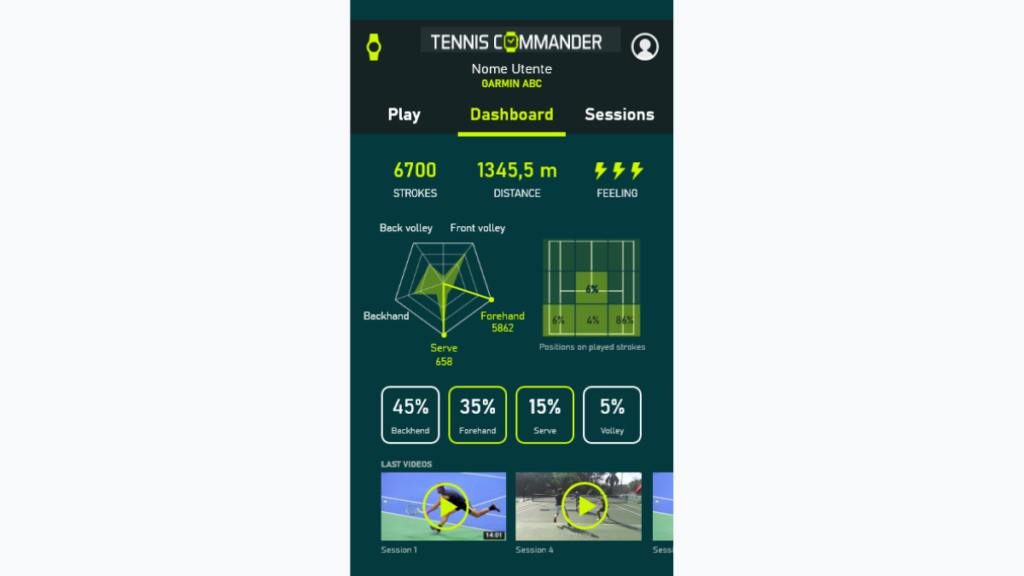 Tennis Commander is a mobile app which records your game, analyses your performance and helps you to improve your technique. The app analyses a player with the phone camera set up in the middle of the court next to the net, trained on one player.
After recording in the app, heat maps, video highlights and replays are available in the free version of the app. This can give you an insight into where you spend a lot of time on the court and whether or not you are aggressive / defensive enough.
Individual shot analysis can be conducted with AI automatically gathering data on shot spin, impact height and power. The stats can be analysed in real time with AI counting software tracking length of rallies and providing averages on spin, power and more. There are also stroke recognition abilities which allow players to review when shots are played on their forehand or backhand for example.
Going forward, the developers of Tennis Commander are also publicly looking into allowing the ability to connect and match with other players based on specific in-game characteristics through filter search / suggestions and geolocation within the app. This would mean players are able to find new people to play tennis with using skill-based match-making. Not only that, they are also aiming to use captured performance data to improve players performance. Users will eventually be able to receive video tutorials, start personalised training plans and match suggested complementary players to work on your most important skills.
The app is free to download meaning you can get access to heat maps and in-app video recording without paying a penny. If you wanted to upgrade, there are two options. For just the mobile phone features, it is around $130 per year. For the mobile phone and smart watch, it is a little more expensive at just over $190 at the time of writing, but this provides you with more features and real-time live feedback.
Conclusion
Tennis has long been considered one of the most innovative sports, mainly due to its constant development of new technology that helps push the boundaries of what is achievable with video analysis. This innovation has made it possible for players to analyse their performances and improve their skills using video analysis technology. This sport is especially suited to on-court video analysis, as the playing area is not too large, and it is easier to capture all the necessary angles for a thorough analysis. As technology continues to advance, more and more portable consumer equipment, such as mobile devices, is becoming powerful enough to perform complex computations, including Machine Learning and Computer Vision algorithms, which are now being embedded in these devices.

One of the most significant advantages of having video analysis software available on mobile devices is that it provides opportunities for players on a lower budget to take their development in the sport seriously. These players can now analyse their performance using software that is available at a lower price point than some of the more expensive analysis software such as PlaySight or accuTennis, which were discussed in our previous post on tennis technology: Different types of technology used in tennis. With the advent of this software, players can take their game to the next level, regardless of their budget, making it a more accessible and equitable sport.