Different types of technology used in tennis
Tennis, like all sports, is developing at a rapid rate. It has always been ahead of the curve in terms of utilising the latest technology since the successful introduction of Hawk-Eye back in 2005. Unlike other sports such as football, the interpretation of the rules and regulations is not subjective. The ball is either in or out, it either hit the net or it didn't. This makes the implementation of different types of technologies such as Hawk-Eye seamless as there are no doubts surrounding its effectiveness in helping the officials do their job.
When it comes to sports technology, tennis is one of the sports that is well covered. Checking out Tennis Techie, which is one of the most well-resourced sites on tennis technologies, they have classified tennis tech products into eight categories. They have apps ranging from club management to player wellness, statistical and match analysis, sensors, video analysis and smart courts. Basically, there are lots of different technologies which have been developed for tennis. Of course, some of them can be used or adapted to other sports. In future blogs we will be looking into the other categories such as Match Analysis and you will be able to find them here once they are published.
However, the technology we'll be looking at here is installed permanently onto the court. There are a number of companies who have developed solutions in this category, including: AccuTennis, Mojjo, Playsight, Wingfield and Zenniz. Even Hawk-Eye has developed solutions for coaching and training. But the focus will be on those five above.
Generally they all have these common features:
Camera based
Display interfaces
Used for coaching and training purposes
Permanently installed
a) AccuTennis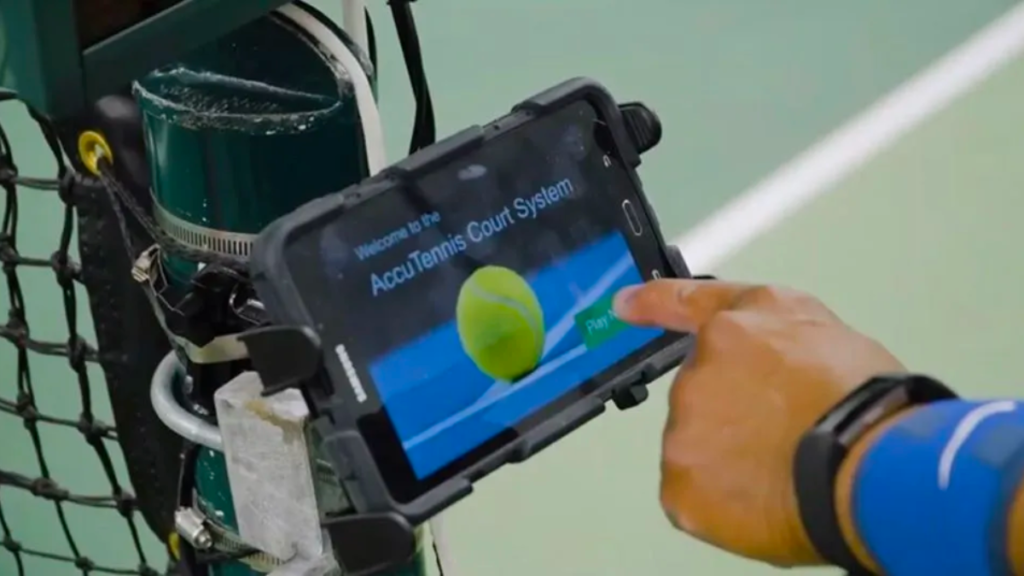 AccuTennis implements 22 cameras around a court which are used to track all tennis activities. Speakers are used to provide audio feedback during gameplay or training and a double sided LED display is mounted at the side of the court providing scores and / or visual feedback. A tablet is also included allowing coaches and players to simply sign in and begin their sessions, create drills and even create custom training programmes for players. Coaches can then monitor players analysing their ability to meet their goals set for the sessions and identify points of weakness.
The system also tracks gameplay including; line calling, score tracking, statistics and video capture. Post game, the system then has the ability to generate more data including heat maps which then allows players to be able to review and analyse the video footage after the game, annotating and replaying at different speeds.
b) Mojjo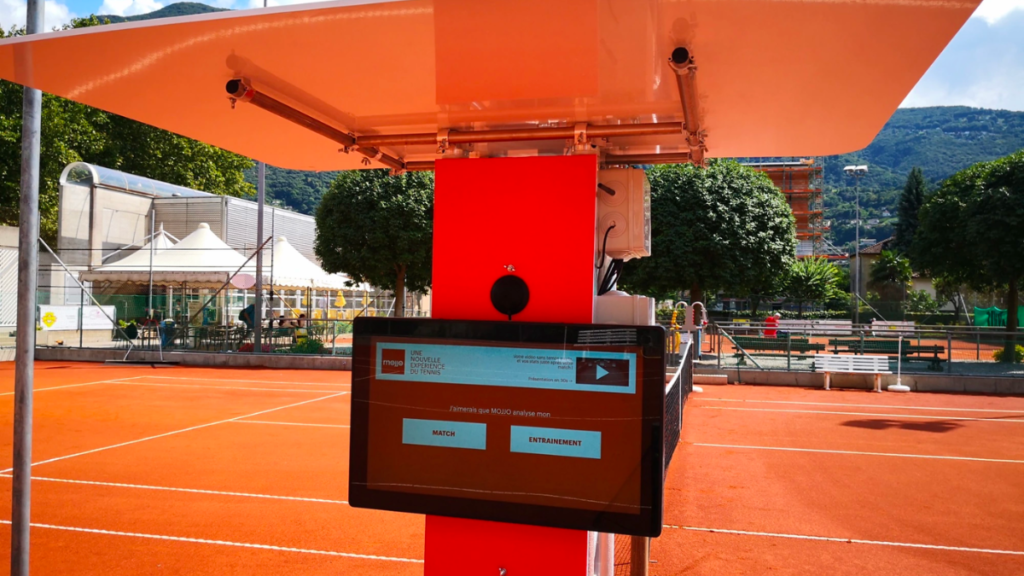 Mojjo has a camera based system which has two versions. The Premium version uses two HD cameras, one in the middle and one at the rear of the court, and a touch screen kiosk for users to interact with. The Lite version has just one camera at the rear. Although it shares a lot of the same features with AccuTennis, there are also a few unique features. One of them is the ability to use your mobile phone to set up a third camera angle to capture footage whilst synced to the main system. With the remote app, the mobile phone can be placed anywhere on the court thus providing a customisable perspective.
As well as this, Mojjo offers the ability to live stream games onto YouTube or Facebook live, giving spectators access to the games where before this may not have been possible.
c) PlaySight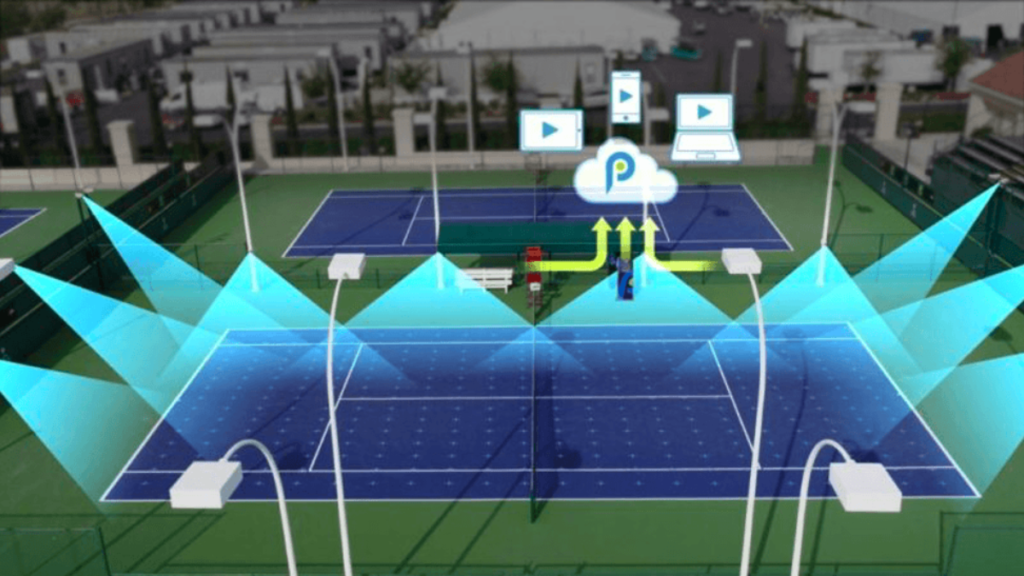 PlaySight is a system based on cameras, computer vision and AI (artificial intelligence). Though it can now be used in a range of sports, it was first established in tennis helping players to improve their game using advanced technology. Their 'Smart Court Pro' has up to 10 cameras, all of which are synced for a multi-angle viewing experience in real time or post game. Again, each court is equipped with a kiosk which allows users to sign in, create drills and begin tracking their gameplay or training. There is optional audio feedback and coaches and players can pause the video to analyse footage. Post game, users can use their mobile phones to analyse the footage on the mobile app.
There are also options to upload pre-recorded videos from a mobile phone onto the PlaySight app to review, analyse and create highlight reels in app, as well as accessing live streams of events.
d) Wingfield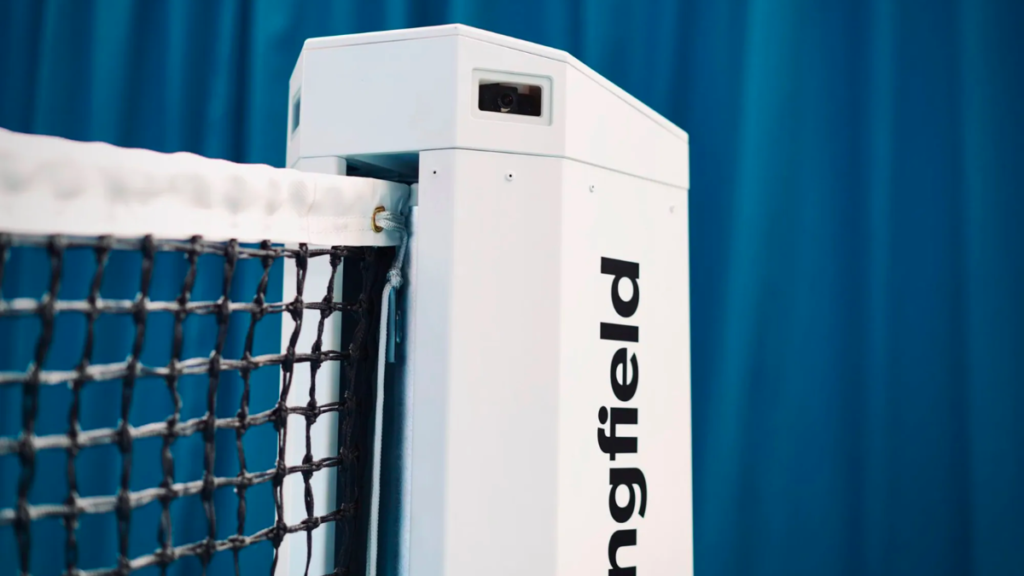 Wingfield is also a camera based technology. This one comes in a compact design which aims to 'blend into the court'. The Wingfield box replaces one of the net posts and houses a touch screen and two high speed cameras pointing at either side of the court. There is also another camera which can be mounted anywhere around the court in order to capture a full view of every session.
It has the majority of the features as before, however, there are also some unique features. There is a personalised QR code to make sign in easier and they have something called 'Stroke Scores' which provides a single metric for users to review the quality of different types of strokes and their progress over time.
e) Zenniz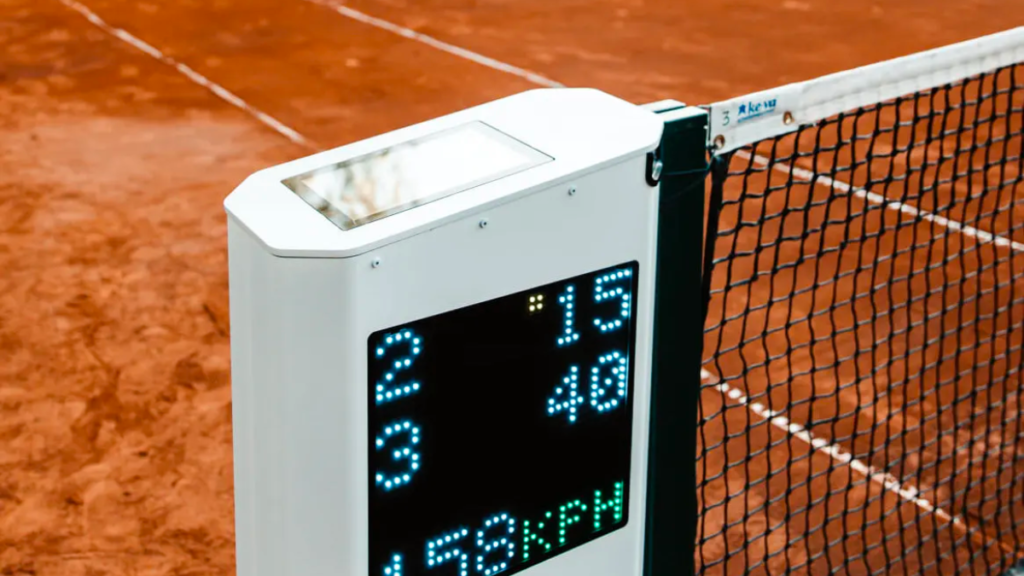 Similarly, Zenniz uses a net post camera that is permanently installed on the tennis court. The kiosk has a touch screen on top with two video cameras that capture both sides of the court. The kiosk has 2 LED screens facing either side of the court giving real time feedback of the scores and statistics.
The system also uses 30 sonar sensors placed around the court which provide ball tracking accuracy up to 1cm.
Conclusion
In conclusion, the range of technology products available in the tennis world is widespread. However, much of this technology has high costs due to permanent installations that involve a lot of different technological functions being in place (which clubs pay a premium for). There is a lot of technological innovation in the world of sport but, arguably, tennis is one of the most forward thinking sports.
In future blog posts we will be looking into different types of technology on the tennis court, ranging from permanently installed technology to mobile apps.